Komatsu 895 
A reliable and productive partner
Komatsu 895 
The Komatsu 895 is designed to forward productively. Every component has been developed for a load capacity of 20 tonnes. No other forwarder matches this performance. It's as simple as that.
Power
214 kW DIN at 1,850 rpm.
Torque
1,280 Nm at 1,500 rpm.
The advantages of our forwarders in 360°
Specifications
895 2020
Overview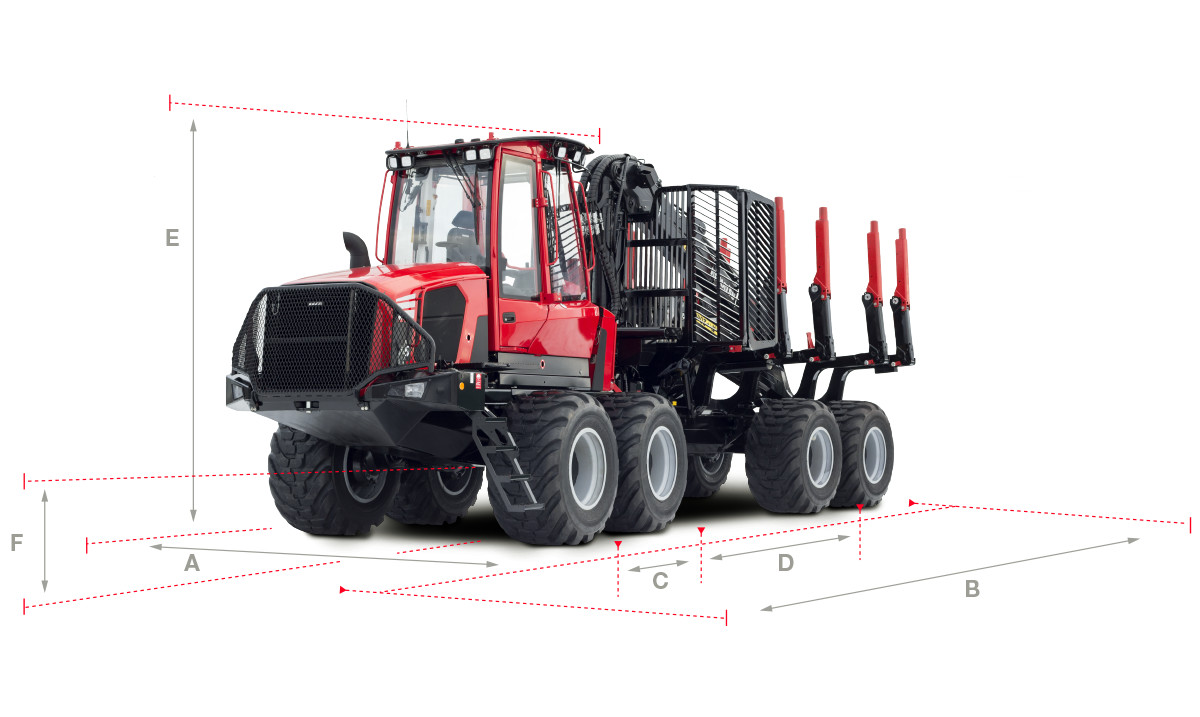 Dimensions
A. Width
With 780/50x28,5 tyres: 3 160 mm
B. Length, total
10 790 mm (with shortest rear frame)
C. Length, front axle to middle joint
2 000 mm (6'7")
D. Length, middle joint to rear axle
3 900 mm (12'10") (with shortest rear frame)
E. Transport height
4 050 mm (hoses included and with tyre compression)
F. Ground clearance, at steering coupling
8WD: 790 mm
Note
Stated dimensions are nominal and may vary slightly depending on production tolerances and choice of equipment.
Weight
Approximate weight
6WD: 20 700 kg, 8WD: 23 600 kg
Engine
General information
AGCO Power, 6-cylinder diesel engine with turbo and intercooler. EU Stage V.
Power
214 kW DIN at 1,850 rpm.
Torque
1,280 Nm at 1,500 rpm.
Bunk area
Bunk area
5.2–7.2 m2 depending on options and market.
Loader and grapple
Gross lifting torque
165 kNm
Gross slewing torque
43.4 kNm
Hydraulic system
Flow
0-360 l/min at 2000 RPM
Max working pressure
24.5 MPa (245 bar)
Electrical system
Battery capacity
2 x 180 Ah
Notes
General information
Standard and extra equipment are market-dependent and vary between countries. The specification describes possible equipment, not that which is standard or optional. Stated weights are based on standard equipment. Specifications and designs are subject to change without notice.