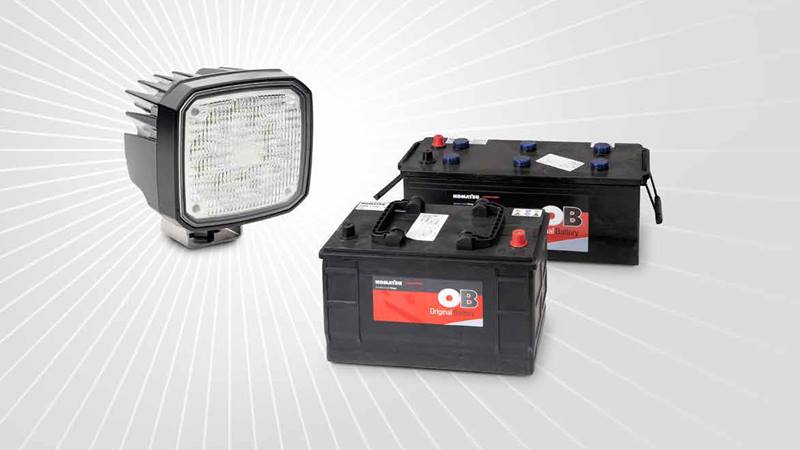 Power up for a bright autumn!
20 % off on batteries and LED lighting
The offer applies to selected lighting and batteries during October 2019 or while stocks last.
Komatsu LED lighting
Good, natural lighting makes the job easier – and saves you from eye strain. This is why Komatsu's LED lights offer powerful and reliable lighting with low energy consumption, an output of 56 W/4000 lumen and a comfortable colour temperature of 6500 Kelvin. These are lights specially designed to withstand knocks, moisture and salt, and they're even fitted with heat sinks to keep things cool. They offer both horizontal and vertical adjustment and are available with tall or wide beams.
Komatsu original batteries
Specially developed for the demanding operating and working conditions of a forest machine. They have a highly favourable cycle life, meaning the ability to be repeatedly charged and discharged over a long period of time, making for a good power source and problem-free cold starts even when temperatures drop well below zero. What's more, the batteries have an especially sturdy build to withstand the vibrations from driving in challenging terrain.
| | | |
| --- | --- | --- |
| Batteries | Article number | Comments |
| 12V / 140AH / 800CCA | 5223821 | D04, E3, V3, 38kg |
| 12V / 180AH / 1050CCA | 5223823 | D05, E4, V3, 49kg |
| 12V / 110AH / 900CCA | 5223825 | D02, E2, V2, 30kg |
| LED lighting | | |
| Lamp, upright, round | 5239762 | Wide beam |
| Lamp, upright | 5282420 | LED II Ultra Beam, long beam |
| Lamp, upright | 5282421 | LED II Ultra Beam, wide beam |
| Lamp, hanging | 5282422 | LED II Ultra Beam, wide beam |