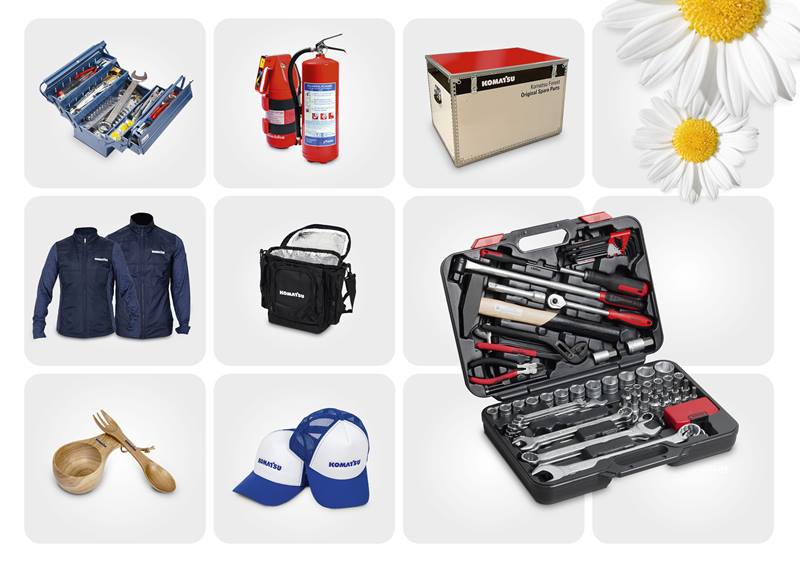 Summer promotion!
Warmer times are coming
With the summer coming up, here at Komatsu we'd like to make it easier for you to work through the dry summer months as well as enjoy your well-earned holiday. We have, for instance, special deals on products for greater peace of mind in case of fire. We also have a cooler bag to keep drinks cold and a cap to keep the sun from your eyes. Get ready for the summer with Komatsu!
20% discount on all items
Fire safety
To give you peace of mind while working through the dry summer months, we're offering special deals on a number of fire-safety products.


Toolboxes
Have you had your toolbox for a while now? Why not take the chance to upgrade your tools at great prices?


Caps
Komatsu's blue and white trucker cap is available for aficionados both large and small, with a padded front in unbrushed cotton twill and a snapback buckle for a perfect fit.


Cooler bag
Hopefully, you'll get to spend many of the best summer days outdoors. This practical cooler bag will keep your drinks and tasty treats at just the right temperature.


Wooden cup and spork
Time for a daytrip? Your coffee will taste extra special from our wooden cup with its leather lanyard and traditional Nordic design. And why not eat your food with a spork, a cross between a spoon and fork made from beautiful beech wood.


Storage box
This plywood storage box is perfect for, say, keeping spare parts in order in your service truck or ensuring that things are neat and tidy anywhere else you like.


Jackets
This lightweight and comfortable Komatsu jacket is bound to prove a new favourite. Boasting a stylish sports/casual look, it's equally well suited to cosy evenings on your decking as it is for wearing in your cab. The sleeves and back are of a soft lightweight material while the body is of woven material to protect you from the wind.
The promotion will run through June, July and August 2022. Please contact your nearest dealer for more information. You can also find our branded merchandise at komatsuforest.com/shop