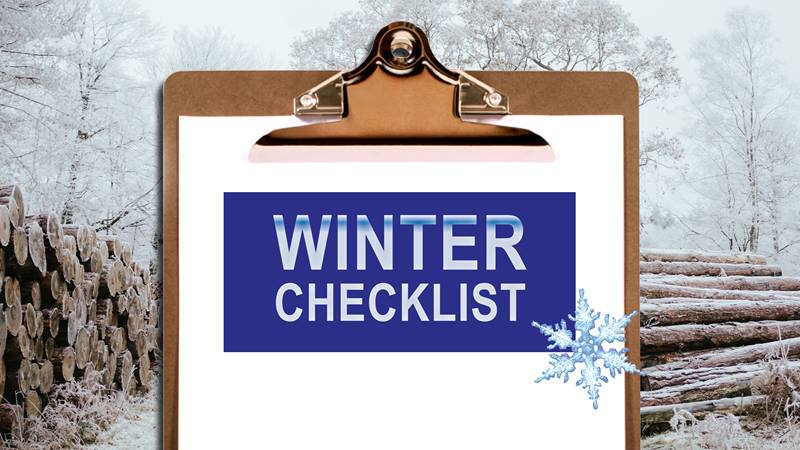 Winter Checklist
Essential checks to get you prepared for the winter
With shorter days, longer nights and temperatures dropping, it is essential to make sure you and your machines are prepared for the winter season. So, what can you do to be ready for the winter? Here are some things to think about...
The single and most important point is You, the Operator. Are you prepared for Winter? See the latest Komatsu Winter Clothing and Accessories range!
Webasto Night Heater – Was it functional on arrival this morning?
Worklights – Did you notice any worklight malfunction at machine power up this morning?
Steps, Handrails and Access platforms – Were you able to safely gain access to perform your Pre-Start Checks?
Pre-Start Checks: (Please refer to user manual for comprehensive Pre-Start Checklist)


•

Safety Components – DAFO, Saw Safety equipment, Emergency Exits, Hydraulic shut-off functions, Horn, Control system Alarms


•

Anti-Freeze levels and Temperature protection levels


•

Fan Belts and Drive Belts – Tension and belt condition? Do you have a replacement belt available?


•

Levels – Engine Oil, Hydraulic Oil,

Fuel, AdBlue, AutoLub Grease, Chain Oil – Do they need a top up?


•

Saw Equipment – Have you enough Bars, Chains, Sprockets, Chain catchers, Bar bolts?
Daily Maintenance – Auto & Manual lubrication – Have you checked grease at pins? Do you have adequate grease supply? Grease Nipples?
Cabin Windows and Protection – Have you checked for damage? Can you see? Wipers – Wiper arms - Screenwash?
Air Conditioning – Did you know A/C is the most efficient way to remove moisture from your cabin? Does your system function?




Call Now and Quote: "Winter Checklist" for a 10% Labour rate discount on any Night Heater or Air Conditioning system repair.




Discounts on parts also available via the Partnership Rewards Programme.