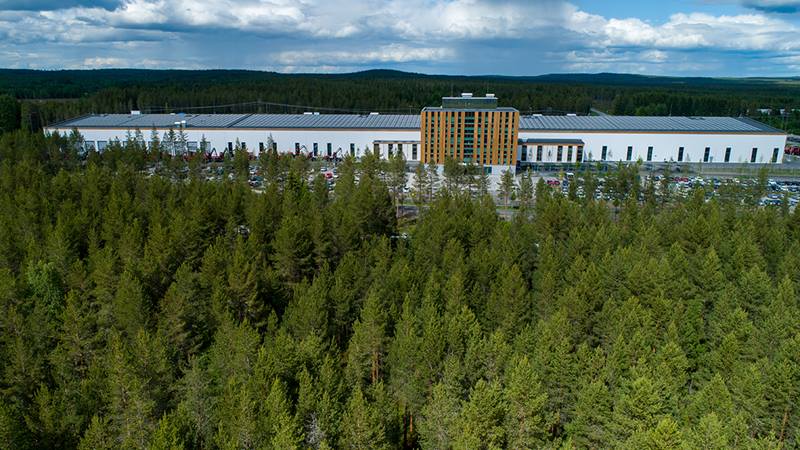 Our production facility
The workplace of the future
In 2021, Komatsu Forest new future-proof factory was commissioned. The factory is located on the outskirts of Umeå, in the north of Sweden and has a focus on sustainable production and IoT.
Komatsu Forest has both headquarters and manufacturing in Umeå, Sweden. The new factory is built on the industrial area Klockarbäcken in the outskirts of the city and is something of a unique landmark with its nearly 40,000 m
2
divided into production area on two floors and an associated office building in six floors.
Environment
The factory has high targets for reducing CO2-emissions reducing water consumption, reducing waste and increasing biodiversity. On the roof of the factory is one of the largest solar parks in the Nordic region.
The building has been constructed in line with the Swedish environmental standard Miljöbyggnad Guld, which requires an energy consumption of less than 60 kWh/m². Our consumption is estimated to be about 40 kWh/m².
Our vision is for net zero greenhouse gas emissions from the plant by 2050.
Working environment
The facility have been built with a strong focus on a safe and healthy indoor environment and provides good conditions for social sustainability.

Safety is our top priority, and we work hard to prevent occupational illness and accidents.

Proactive work environment management increases creativity and productivity, and thereby profitability and job security as well. We want to develop the work environment in active partnership with our employees.

Production
The factory has only one production line, which provides an efficient production process with a high quality. As for IoT, we have taken a big step towards the future, where the company's manufacturing process is connected.
The new plant can adapt to changes and business needs quickly, whether they concern the factory or the office.