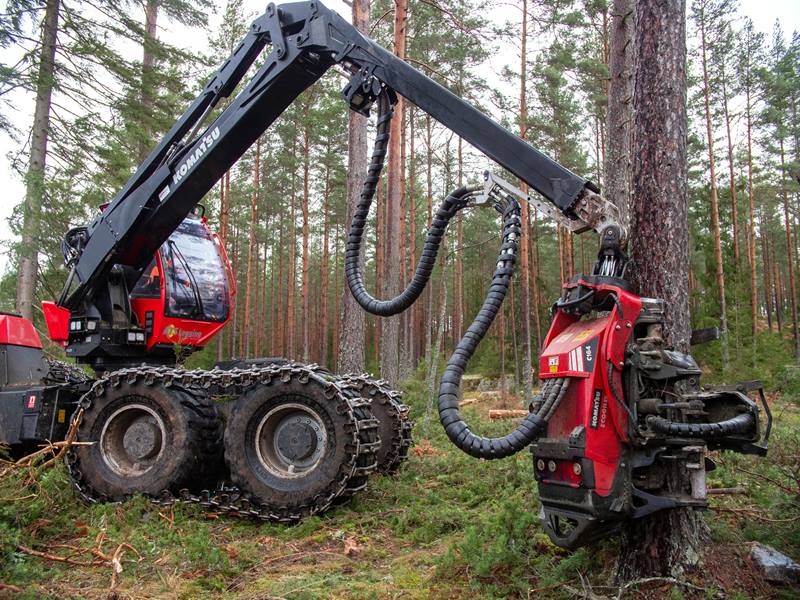 Komatsu C164
The perfect match for rough trees
Komatsu C164
The C164 is designed to simplify the working day for harvester operators working in rough forests. Every detail has been designed with large trees, big root flares and rough limbs in mind. Despite being the largest head in the popular range of C heads the clever design makes it smooth and easy to handle on the machine. It's a perfect match for Komatsu 951.
Weight (dry weight)
From 1 672,5 kg (3687 lbs)
Fell/cut diameter, max
830 mm (32.7") with 97 cm saw bar
Delimbing diameter, tip to tip
620 mm (24.4")
Head opening, max
750 mm (29.5")
Specifications
C164
Overview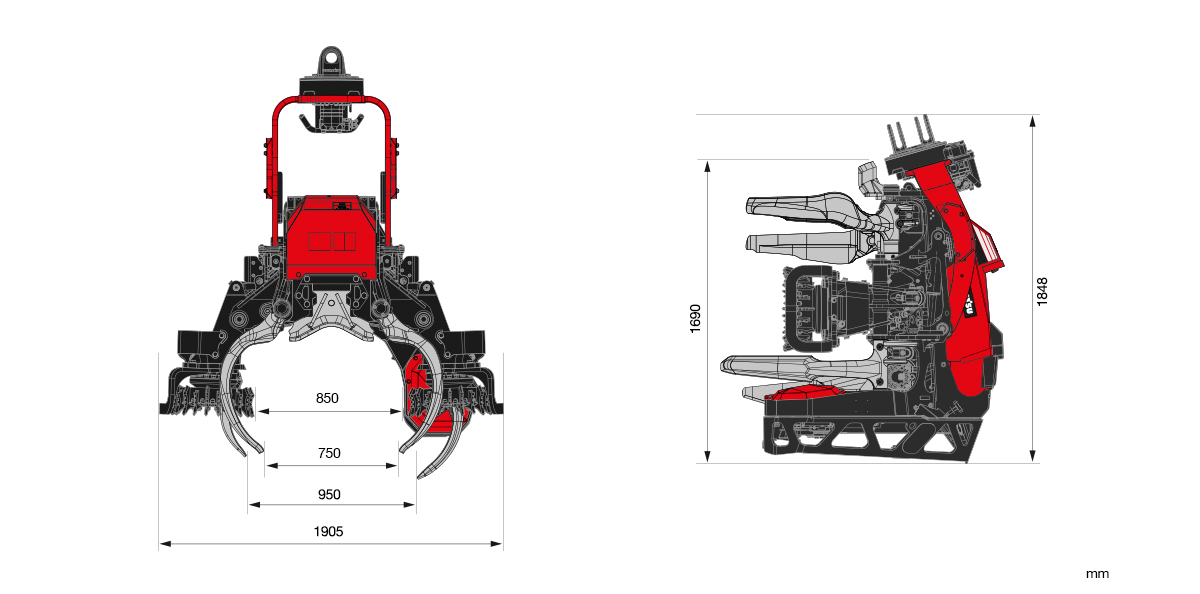 Dimensions
Height incl. rotator
1 848 mm (72.8")
Height to vertical knife
1 690 mm (66.5")
Roller opening, max
850 mm (33.5")
Max recommended tree size
640 mm (25.2")
Max possible tree size
750 mm (29.5")
Opening front knives
750 mm (29.5")
Opening rear knives
950 mm (37.4")
Specifications
Weight
Dry weight, incl rotator, from 1 672,5 kg (3687 lbs)
Feed speed
0-5 m/s (0-16.4 ft/s)
Gross feed force
934 cc: 35,4 kN, 780 cc: 29,6 kN
Feed wheel type
Finger feed rollers
Delimbing knives, number
5
Delimbing knives, opening
620 mm (24.4")
Bar
90 cm (35.4") / 97 cm (38.2")
Saw motor
19 cm³/rev (1.16 cu in/rev)
Fell/Cut diam. theor. max
Saw bar dependent 830 mm (32.7") with 97 cm saw bar
Max hydraulic flow
380 l/min
Max hydraulic pressure
280 bar/28 MPa (4,061 psi)
Notes
General information
Standard and extra equipment are market-dependent and vary between countries. The specification describes possible equipment, not that which is standard or optional. Stated weights are based on standard equipment. Specifications and designs are subject to change without notice.