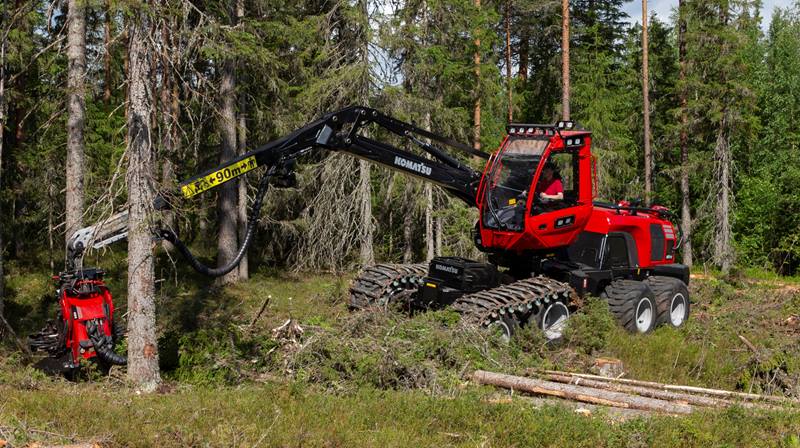 Komatsu 901XC
Low ground pressure, stability and good reach
Komatsu 901XC
The Komatsu 901XC is a thinning harvester with extreme stability and good reach. Its eight wheels reduce ground damage on soft forest floors and deliver excellent manoeuvrability in steep terrain
Weight (appr.)
From 20 210 kg
Stroke volume
6.6 l
(1.74 gal)
Power
170 kW DIN
at 1 900 rpm
Tractive force
184 kN
(41,365 lbf)
Specifications
901XC
Overview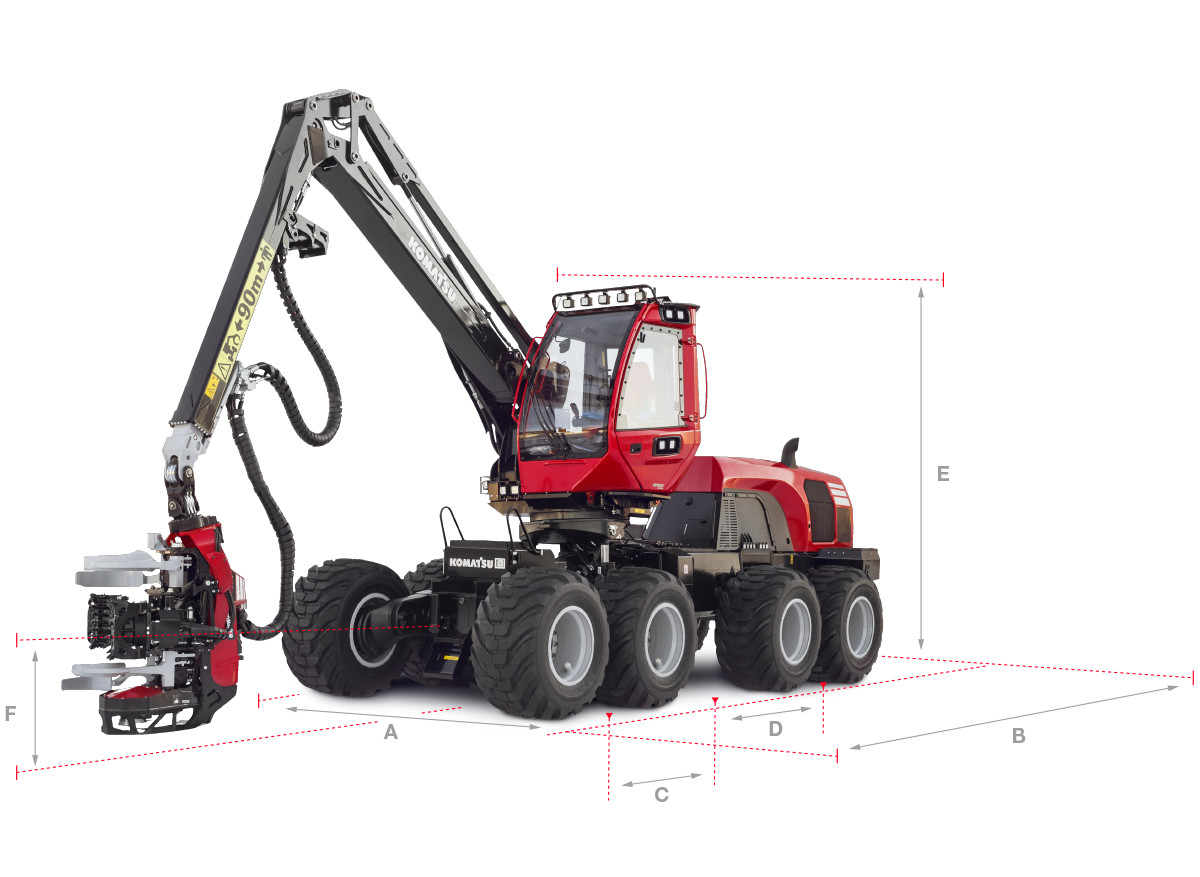 Dimensions
A. Width
With 600/45x24,5 tyres: 2 776 mm (9'1").
B. Length, total
7 705 mm
C. Length, front axle to middle joint
1 850 mm (6'1")
D. Length, middle joint to rear axle
2 100 mm (6'11")
E. Transport height
3840 mm to top of roof, straight cab. 3810 mm backwards tilted cab with tilted light ramp. Both measurements with tire compression.
F. Ground clearance at steering joint
650 mm (12'6")
Note
Stated dimensions are nominal and may vary slightly depending on production tolerances and choice of equipment.
Weight
Approximate weight
From 20 210 kg
Engine
Type
AGCO Power, 6-cylinder diesel engine with turbo and intercooler. EU Stage V.
Stroke volume
6.6 l (1.74 gal)
Power
170 kW DIN at 1 900 rpm
Torque
950 Nm (701 ft-lb) at 1 500 rpm
Fuel tank
415 l (102 gal)
Boom
Model and reach
200H : 10 m (32'10")/ 11 m (36'1")
Gross lifting torque
198 kNm (14,604 lbf-ft)
Gross slewing torque
43 kNm (31,715 lbf-ft)
Heads
Available heads
S82, S92, C93, C124
Hydraulic system
Flow
400 l/min at 1 600 rpm
System pressure
280 bar (4,061 psi)
Electrical system
Battery capacity
2 x 180 Ah
Transmission
Driving speed
0-21,5 km/h (0-12.5 mph)
Notes
General information
The specifications describe possible equipment, not which equipment is standard or optional. Standard and optional equipment varies between countries. Your sales representative has an up-to-date list of what is included. Weights are based on the equipment specified in the basic specification. Specifications and designs are subject to alteration without prior notice.