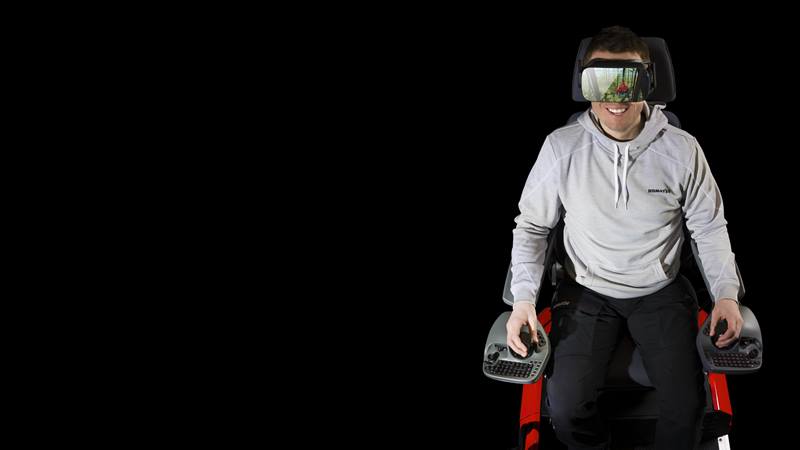 Komatsu simulators
As close to reality as you can get
Simulators are effective for quantitative training before you start operating real machines in the forest. For experienced operators, simulator training offers an opportunity to test new methods that can result in increased efficiency and productivity.
Whether novice or expert, simulator operation should mirror real-life operation as far as possible. In our simulators, the machines perform the same way as they do in the forest. This includes, for example, how the head behaves when set against a tree and how the logs move during forwarding. What's more, the forest can resemble the one you work in. You choose the terrain, landscape and tree species.
The instruction programme in the simulator guides the operator through basic training to full operation in the forest and the instructor can easily follow progress from their own workstation. The simulators are available in ten different language versions, as well as a laptop model. An exciting new feature is the VR option, which uses VR technology to take the simulator experience to new heights.
Train in groups and collaborate
With the multiplayer function, two simulators can operate in the same virtual environment. A forwarder and a harvester can team up, for instance, and the statistics will present their combined results.


Smart learning with instructor station
A separate instructor station provides a better overview and interaction with operators. The instructor can, for example, pause the simulation, record video clips and create comments with timestamps.
Customise the landscape and forest stands
By choosing the appropriate tree species, terrain and forest density, the operator can train under the same conditions found in the forest. Choose between birch, pine, spruce and eucalyptus.


Operate all the new machines
Practice operating all of our harvesters and forwarders with many different machine options. Choose between the standard crane and combi crane, S-type and C-type heads, and with or without the multi-tree handling function.
Below you can access Komatsu Forest's simulator portal, where you can find detailed information about the simulators, request a quote or contact support.
The portal is an external website managed by our subsidiary Oryx Simulations on our behalf.