Komatsu 855
Powerful yet compact
Komatsu 855
The Komatsu 855 makes it easy to deliver. With its power, nimbleness and smart solutions, the Komatsu 855 is a forwarder that offers you long-term productivity in all situations.

Gross load
14,000 kg (30,865 lb)
Power
170 kW DIN at 1,900 RPM.
Torque
950 Nm at 1,500 rpm
Specifications
855
Overview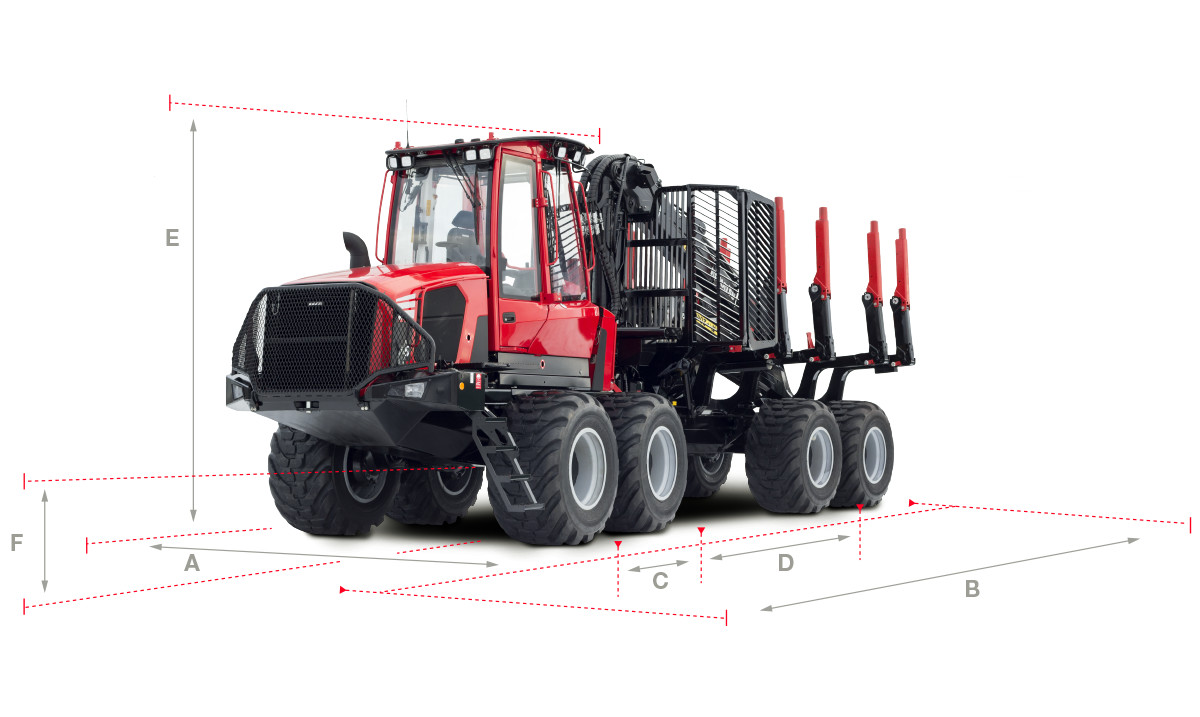 Dimensions
A. Width
With 600/55x26,5 tires: 2 730 mm
B. Length, total
130F: 10 080 mm, 145F: 10 260 mm (with shortest rear frame)
C. Length, front axle to middle joint
1 800 mm
D. Length, middle joint to rear axle
130F: 3 300 mm, 145F: 3 480 mm (with shortest rear frame)
E Transport height with hoses and tyre compression
130F: 3 920 mm, 130F with crane tilt: 3880 mm, 145F: 3 930 mm
F. Ground clearance, at steering joint
8WD: 710 mm
Note
Stated dimensions are nominal and may vary slightly depending on production tolerances and choice of equipment.
Weight
Approximate weight
6WD: 16,500 kg, 8 WD: 18,100 kg
Engine
General information
AGCO Power, 6-cylinder diesel engine with turbo and intercooler. EU Stage V.
Power
170 kW DIN (228 HP) at 1,900 RPM.
Torque
950 Nm at 1,500 rpm
Bunk area
Gross load
14,000 kg (30,865 lb)
Bunk area
4,4 - 5,9 m2, depending on options and market
Crane and grapple
Crane
Komatsu 130F, Komatsu 145F
Reach
130F: 8 m / 10 m, 145F: 8.5 m / 10 m
Gross lifting torque
130F: 127 kNm, 145F: 145 kNm
Gross slewing torque
130F: 28,7 kNm, 145F: 38 kNm
Hydraulic system
Flow
280 l/min (61,6 gal/min) at 2,000 RPM
Electrical system
Battery capacity
2 x 180 Ah
Notes
General information
Standard and extra equipment are market-dependent and vary between countries. The specification describes possible equipment, not that which is standard or optional. Stated weights are based on standard equipment. Specifications and designs are subject to change without notice.